Caught Destroying Returned, Unworn Merchandise
The Huffington Post, April 27, 2011 | 11:37:53 AM (EST)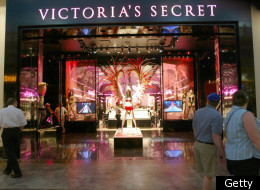 Victoria's Secret is once again the talk of the style town -- no, it's not because of their exceptional Photoshop skills or any super-skinny model accusations.
The lingerie brand cut up a pair of sweatpants right in front of a customer after she returned them to a Florida store.
The Tampa Tribune reports that shopper Marie Wolf brought back a pair of Pink sweatpants, the clerk refunded her and promptly took a pair of scissors to the item:
"I was shocked, because, mind you, these were $70 sweatpants, and there's nothing wrong with them," Wolf said. "The clerk just said, 'I know, but it's our policy.' "

Outraged, Wolf confronted a store manager, then called the parent company and found, indeed, Victoria's Secret does cut up some returned items so they can't be resold -- even if they're in fine condition.

Apparently, the clerk's only mistake, Wolf said, was to cut up the clothes in front of customers, and not in a back room out of sight.
Sent from my iPhone